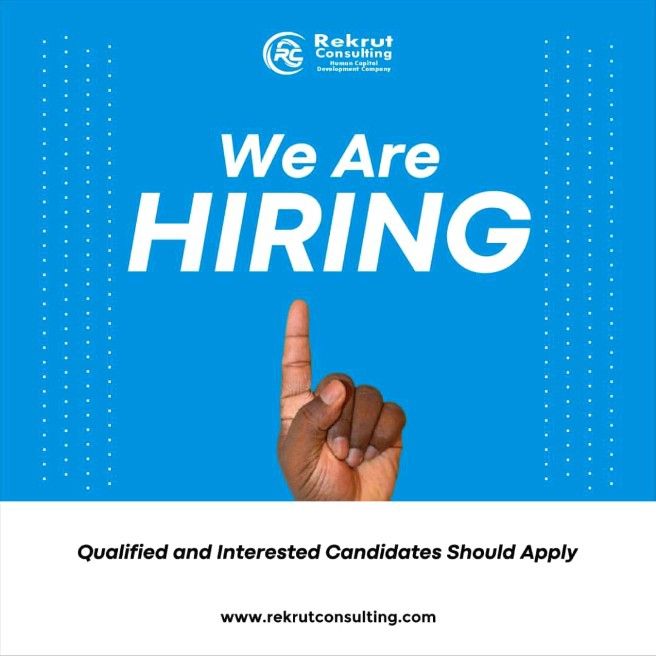 We're HIRING: Finance Portfolio Manager, Infrastructure Fund
■Job title: Finance Portfolio Manager, Infrastructure Fund
■Job Type: Full-Time
■Work Location: Lagos
THE ROLE:
Reporting to the Infrastructure Fund Manager/ Chief Investment Officer, the Portfolio Manager will assist in originating low-risk, bankable Infrastructure deals in sectors such as power, transportation, energy transition, renewable energy, agro-industrial facilities, resilient infrastructure (including urban and social infrastructure) etc.
The PM would be responsible for unearthing and evaluating prospective assets for investments, conducing pre-appraisal analyses, conducting detailed due diligence, valuation of assets and the portfolio investments, working with project developers to implement finance-able transaction structures, preparing and consolidating terms sheets and financing documentation, providing on-going monitoring of portfolio investments and anchoring activities to exit portfolio investments, in line with approved investment policies and guidelines.
■Client Company: A foremost financial and investment power house based in Nigeria.
■Job title: Structured Finance Manager, Infrastructure Fund.
■Job Type: Full-Time
■Work Location: Lagos, Nigeria
■Salary: Very attractive
MANDATORY EXPERIENCE
■Experience project finance deals from origination to financial close (infrastructure-specific experience is advantageous)
■Experience in capital-raising for project or corporate financing programs – network of contacts with PE funds and multilateral agencies is advantageous
■Experience in negotiating with financial institutions / loan syndicates to close.
■Experience in structuring transactions, developing and negotiating term sheets to execution and advising on suitable debt structures
■Experience in undertaking Due Diligence and Risk Reviews for portfolio investments – including capital investments and asset acquisitions.
PRIMARY RESPONSIBILITIES
■Develop medium and long-term strategies, action plans to improve the quality of pipeline deals and investment portfolio
■Build and manage a well-balanced infrastructure portfolio aimed at achieving target risk-adjusted returns of investors and provide up to date reports
■Co-anchor deal origination and drive day to day engagements with Developers to build a pipeline of high-quality infra projects
■Providing support to develop sector-specific product papers, financing structures, analytical tools, and templates for use in standardizing project appraisals
■Perform financial modelling and scenario analysis on an ongoing basis
■Coordinate the engagement of advisors and consultants and oversee the delivery of third-party advisory and consultancy services from time to time.
■Conduct comprehensive due diligence and prepare investment memoranda
■Co-anchor the valuation and structuring of infrastructure deals.
REQUIRED QUALIFICATIONS AND EXPERIENCE
■University Degree in business, finance or other numerate course (BA, BSc, M.A, MSc, MBA)
■Finance and accounting-related qualifications (CFA is preferred)
■Minimum 6 years in project finance roles, out of which at least 2 years spent at senior level in developing and successfully closing on deals across real sectors
■Proven experience of originating, appraising and capital-raising expertise.
■Infrastructure sector experience (transportation, power, renewable energy, real estate and agro-industrial sectors) is advantageous
■International project experience – would be an asset but not essential.
REQUIRED SKILLS/ABILITIES
■Financial analysis, portfolio valuation, and modeling expertise
■Ability to structure complex financing terms.
■Excellent verbal and written communication skills.
■Excellent interpersonal and customer service skills.
■Excellent organizational skills and attention to detail.
■Strong analytical and problem-solving skills.
■Proficient with Microsoft Office Suite or related software.
HOW TO APPLY: Pls. Click the link below
https://bit.ly/Investment-Portfolio-Manager
RELATED ARTICLES